A private company called Anthem USA, LLC has the following vision: To create new models of sustainable supportive environments for at risk populations by innovation and collaboration with other organizations. It's mission is to create and integrate veteran-centric housing opportunities with supportive services that assist with the effects of prior deployment and facilitate personal career development.
Founded in 2012 by Kendall R. Brune, Ph.D., MBA, LNHA, FACHCA, Wes Sperr, MBA, MA, FACHCA, David Kirkland, David Woolley, Scott Wanamaker, JD and Jeanette Bax-Kurtz, CPA (Partner, Mueller Probst), Anthem USA, LLC creates community-based planned rehabilitation communities designed to serve returning military families and retired veterans. The three brands they have  Trace Properties, Oasis Care Centers and Veteran Villages of America.
Trace Properties was established to provide market rate housing for the communities that are close to a veteran, university or community college.  Trace properties have priced their market rate units in line with the off-base and GI educational/housing pricing index.  We are not direct contractors with the federal government, but  they provide affordable rental units approved for veteran approved funding.
Oasis Care Centers was established to provide a licensed level of care to returning veterans, their families and widows of veterans.  Our Oasis Care Centers provide a licensed level of support for individuals that are challenged with mental and behavioral health issues, transitional housing support for individuals with orthopedic limitations and medication modification program as they transition back into civilian life.  Oasis will be a strategic partner to healthcare and vocational providers in the region they reside.
Through Veteran Villages of American (an Anthem USA affiliate) a mission is to establish housing, educational and business models in the following settings: rural, suburban, and urban. The principals bring more than 125 years of combined supportive housing and healthcare experience.  Dr. Brune has also established business and research relationships with universities, community colleges, and vocational colleges throughout the United States.
Anthem USA is actively partnering with select communities to enhance housing, educational, employment and other services for veterans and their families. Critical indicators are used to identify needs in veteran service areas, temporary to permanent housing inventory, employment availability and also vocational and higher education accessibility (including distance learning).
Key location requirements are readily available and accessible housing assets (or development sites), availability of public transportation, proximity to veteran hospital and out-patient services, quality primary and secondary public schools for veteran family children, access to community colleges and major universities and finally to be located within 60 miles of a military base.
The principals have attracted experienced healthcare and housing professionals to their team with connections to many municipalities, hospitals, home health agencies, not-for-profit boards, nursing homes, associations and other government agencies.  The management team has successfully turned around non-performing/non-compliant facilities. The principals have the patience, willingness, and creativity to coordinate and implement holistic projects.
Flexibility, creativity, and attention to detail form the foundation upon which Anthem USA has established its niche in veteran friendly initiatives.
The need: With currently over 200,000 veterans at risk of homelessness and unemployment, the Veterans Administration has supported demonstration projects that address the following critical areas of support
Aggressive outreach to those veterans living on the streets and in shelters, who otherwise would not seek assistance.
Clinical assessment and referral to needed medical treatment for physical and psychiatric disorders, including substance abuse.
Long-term sheltered transitional assistance, case management, and rehabilitation.
Employment assistance and linkage with available income supports.
Supported transitional and permanent housing.
Example of collaborative groups working with Anthem USA in our veteran centric operations are:  Future Without Poverty www.FWOP.org , Give an Hour www.GiveAnHour.org, GO Network www.gonetworkstl.com, HeroesCare www.HeroesCare.org, Preferred Family Healthcare www.pfh.org, The Mission Continues www.MissionContinues.org, Purple Heart Homes www.purplehearthomesusa.org.
Some current projects completed or in process are:
RiverTrace Townhomes (RTC): A suburban housing example RTC is located in North St. Louis County, strategically placed within 5 miles of key stakeholders with our Veteran Centric sustainability model:
Within 5 miles of a Veteran affiliated community/vocational college, private college and major state university.
Within 5 miles of a Veteran Skilled Rehabilitation and Outpatient Center
Within 5 miles of a Veteran Centric employer(s)
This site with 96 apartments is fully occupied  and has a waiting list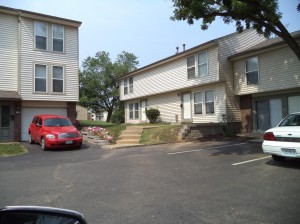 Veterans IT Center: An Urban housing example
Veterans IT Center is in a disadvantaged St. Louis city location
Repurposing a 1890 Catholic Campus,
Provides transitional housing,
Collaboration includes a community/vocational certification process leading to employment
12 apartments available for veterans currently and 6 apartments for families with children.
Common kitchen and dining room for veteran apartment building.
Some 4 blocks away from the Veteran IT center , Anthem, USA will close on a second former Catholic campus .The monastery  when renovated will  have 95 apartments for veterans and rooms for educational and social meetings.    Currently a food bank operating out the facility will be continued to serve the local community.    On back end of the property they have gym and space for a future school.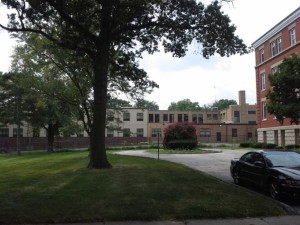 This site will provide a food pantry, wellness center, community care coordination, a free clinic, adult day & childcare, and onsite supportive housing for veterans in transition or challenged by PTSD (Post Traumatic Stress Syndrome).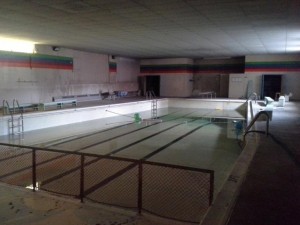 This site houses an indoor Olympic swimming pool.  Our first goal will be to make this pool handicap accessible for not only the veteran, but the greater community.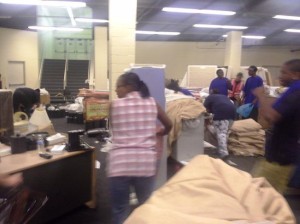 Recently a hotel taken over by a new owner donated some ten floors of furniture to veteran housing and some four hundred volunteers helped move the furniture into storage.
Dr Kendall Brune is the Vice President for Development at FWOP. He has linked FWOP with some influential groups to reduce homelessness and prevent poverty in St Louis.
Dr Stan Ingman from UNT/FWOP recently visited Anthem USA team to learn about how FWOP and UNT students can assist in the implementation of supportive housing projects for veterans in St Louis.