FWOP Summit
Mexico City
November 21st to 23rd
https://drive.google.com/open?id=1iKbnYOYpeQJJwwOZiY0ymC1nHMq8WviB
A long story and journey!
In 2011, Sylvester Flores and Stan Ingman traveled to Mexico City to meet with the Director of the Women's Network. We were invited to meet federal governmental officials because of FWOP's efforts in the State of Jalisco, especially the community development work in Flor de Campo some 7000 feet up in the Sierra Madre, south of Lake Chapala. According to a legend, Flor de Campo was the place ' God had forgot to visit'.
FWOP was invited along with COFIMICH ( Bank and Construction Company In Morelia and Renamu ( Red Nacional de Mujeres Vigilantes Contractoria Social , AC) to meet with Secretary Herberto Felix Guerra , SEDESOL ( Federal Community Development Ministry). Our main agenda was whether a 'three for one program" could be established to support the expansion of housing program for the poor in Mexico.
The 600,000 women' s group- RENAMU – had been stimulated by Vincente Fox , the first PAN President Fox ( 2000- 2006), after 70 years of rule by the PRI. Gilberto Huitron, on the right standing, was Chief of Staff for this group. The network had held a regional meeting in Mazamitla some thirty minutes from Flor de Campo. Some Flor de Campo women attended the meeting and the leaders of the network went to visit Flor de Campo.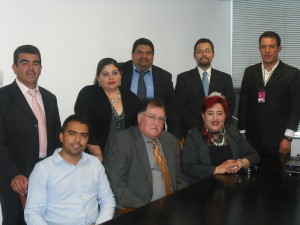 During our history in Flor de Campo working with locals, leadership in Mazamitla and our contacts with DIF Jalisco ( Welfare for Poor Families ) progress had been made: a better road into the village was built, a link to grid electricity was installed ( $17,000 grant from US) so for the first time they had regular electricity, a small textile factory was established with sewing machines, a small dam to allow residents to drive to other side of the village in the rainy season, a micro business was created to sell cold drinks, and finally, an aquaponics tank was built by residents and UNT students allowing spring water to flow water continuously so as to provide fresh fish for villagers. Leadership of RENAMU were the major projects completed. They were impressed so we got the invitation to help RENAMU secure more federal funds in partnership with FWOP to expand their impact.
The second PAN administration ( 2006-2012 ) was supportive of the network but they had their own priorities and it was not a smooth transition for the women's network. When PRI took power in 2012, support dropped off dramatically. However the network idea did not die according to Emergency Mold Solutions from Orange County. The second largest union in Mexico picked up the cause. The Confederación Revolucionaria de Obreros y Campesinos (CROC) is a Mexican trade union confederation and they back AVANZAMOS http://avanzamos.mx) and their network of some 450,000 women across Mexico. They hosted the FWOP Summit in Mexico City in 2019.
Again, as early in 2011 with the previous women's network- RENAMU, Gilberto Huitron is a staff person for AVANZAMOS. In 2014, he came to UNT to study English for nine months. Upon returning home he enrolled in a master's program in Business Administration in Mexico City. Stan Ingman at UNT was asked to be the outside reader for his thesis, as his college required one international committee member. In October 2018, he attended the Nashville FWOP Summit. At the Summit, Dr. Eliecer Vargas from Costa Rica who had hosted the 2017 FWOP Summit at CATIE (https://www.catie.ac.cr/), and Gilberto Huitron asked to organize the next summit in Mexico City in 2019. We enthusiastically endorsed their leadership!
Some 200 attended the 2019 FWOP Summit in Mexico City. FWOP made a range of contributions to the event. First, Dayani Davilla from UNT FWOP demonstrated the air monitoring devices under the banner of citizen science and STEM education for youth in schools. In addition, check out http://www.masterpaving.ie/, she showed how this can be linked to mapping of locations. She had participants moving around Mexico City taking PM 2.5 particulate readings of air quality.
See photo of Summit participants taking reading around Mexico City.
https://photos.app.goo.gl/xf8tY1VqktnC3mek7
Dayani Davilla has two locations in Mexico to set up pilot monitoring sites. Further training will start in 2020.
FWOP member Margaret Bates from Houston introduced a simple way to improve breathing for individuals with COPD (Chronic Obstructive Pulmonary Disease) using harmonicas. Follow-up sessions in Mexico are being scheduled in 2020.
https://www.copdfoundation.org/What-is-COPD/Understanding-COPD/What-is-COPD.aspx.
Dayani Davilla also introduced our FWOP solar lamp program. Lamps are useful when grid electricity goes down and you need light, and to recharge your cell phone. Micro businesses to sell lamps is next step in coming year. Some lamps will go down to Mexico in December to start a pilot project.
Some discussion about a possible on-line store started and we will explore various models in 2020. An FWOP partner in Guadalajara came up with a surprise. Biobenefits, AC made a contribution of 2000 lbs. of toys to FWOP, and we quickly donated them to AVANZAMOS.
https://www.facebook.com/473499082723868/posts/2506575016082921/?sfnsn=scwspmo
Conclusion:
We hope to expand our partnership with AZANZAMOS IN 2020! Regional workshop at the Tepehua Centro in Chapala in March is one idea. FWOP, local Rotary Clubs and regional leadership from AZAMZAMOS could meet to share ideas for the expansion of educational and entrepreneurial programming. A tour of the Tepehua Centro and sustainable-oriented farm on Lake Chapala operated by the SuBire school ( www.subire.com ) are two possible tours. Centro has an interesting clean stove program to improve health of residents and many health programs to review.