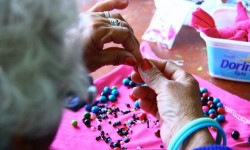 Los Martincitos Senior Citizen Center
Located in a sprawling shantytown on the outskirts of Lima, Peru, the Los Martincitos Senior Citizen Center goes quietly about the business of fulfilling the most basic of daily needs for approximately 145 indigent elderly. Participants often live alone in harsh conditions, with little or no family support. Elderly abuse and neglect are common. Many suffer from debilitating medical conditions and very often have a hard time getting to the center which necessitates home visits from staff whenever possible.
The center offers a hot and healthy breakfast and lunch; access to limited medical care by visiting nurses and physical therapists; and counseling from the staff. Social activities include exercise classes; arts and crafts programs; dances; occasional field trips; and visits from local schoolchildren and volunteers. Activities are often designed to build up the seniors' self-esteem and to make sure that for at least a few hours a week, they have a safe haven away from often heart-wrenching living situations that most of us cannot even imagine.
Los Martincitos exists almost entirely on donations and volunteer assistance. Director and Founder Antonio Palomino Quispe (Tonny) and Sr. Jacqueline Glessner (Jacci), accompanied by an enthusiastic staff, somehow manage to keep the center going, but it is often a day-to-day struggle. There is a lengthy waiting list for those who want to participate, and on days the center is closed, the majority of the seniors must fend for themselves. At the present time, there is only enough money to keep the center open three days a week.