San Martin and Mazamitla, Mexico : Self Management and New Low Income Eco-Housing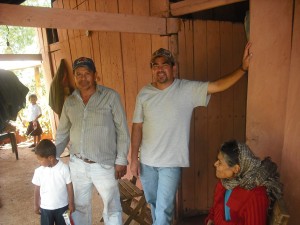 For some 8 years FWOP have worked with San Martin to make this small settlement more livable. Initially, a gasoline generator from Texas was installed to supply two light bulbs per 10 houses. Later three solar panels were installed to substitute for the generator. Now they use them both. A TV antenna show that someone now watches TV.
Villagers had to walk mile or two to locate a bucket of water. So , our team located a spring some 2 miles away from San Martin. GPS help us determine it higher than San Martin. A gravity system of pipes pushed the water tank to San Martin, and finally lines to each house per water access.