Raanan Katzir , a retired agricultural extension agent from Israel , has been a FWOP partner for many years. Since 1993 , Raanan has been teaching across all parts of Chain on such topics as efficient irrigation, mitigation of salinity soils, simplified hydroponics, micro-farming and combating desertification. As our work in Flor de Campo expanded the economic well-being of residents we could see the expansion of agricultural production near the houses. ( See photo below)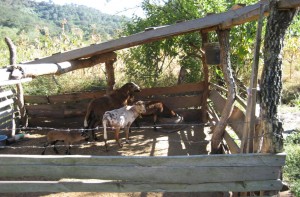 Having worked some years in Central America, he is well able to deliver his material in Spanish. Raanan joined FWOP members in meetings and field trips to Mazamitla, San Martin and Flor de Campo in the State of Jalisco, Zacatecas in State of Zacatecas and Tecoman in the State of Colima. With his recognized expertise, he has consulted and taught in many other areas across Mexico.
He has had a special link to the Institute for Simplified Hydroponics near Puebla, Mexico ( http://www.carbon.org ) . Raanan has worked with the FWOP to construct various models for a "micro-farm" that can increase sustainability for households and local neighborhoods. http://www.microfarms.com Our colleagues are integrating such models into the new housing areas built by COFMICH in Mazamitla (500) , Sahuayo (250) , Ocotlan (250) and Morelia (3500).