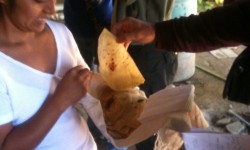 What a fantastic summer this was for us – and what a great autumn it is shaping up to be!
Thanks to all of you, we were able to make a huge leap this summer. Last summer, our first full summer running trips, we were able to give loans to 9 women in Teotitlán. This summer we gave out 75 loans!
It was because of the people you talked to, the reviews you wrote on TripAdvisor and other websites, the stories you posted in your blogs, and all the feedback that you've given us to make our program even better that we were able to reach out to so many more women this summer. Thank you!
What makes this leap even more exciting is that we have had such a strong start to the fall, that as our borrowers finish paying off their summer loans, we have been able to get them new, bigger loans much more quickly than before.
I think you'll like this story of one of our new borrowers from this summer – a woman named Minerva Sanchez Sosa who just received her second loan last night.