Raanan Katzir , a retired agricultural extension agent from Israel , has been a FWOP partner for many years. Since 1993 , Raanan has been teaching across all parts of Chain on such topics as efficient irrigation, mitigation of salinity soils, simplified hydroponics, micro-farming and combating desertification. As our work in Flor de Campo expanded the economic well-being of residents we could see the expansion of agricultural production near the houses. ( See photo below)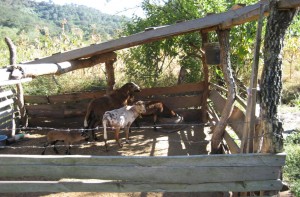 Having worked some years in Central America, he is well able to deliver his material in Spanish. Raanan joined FWOP members in meetings and field trips to Mazamitla, San Martin and Flor de Campo in the State of Jalisco, Zacatecas in State of Zacatecas and Tecoman in the State of Colima. With his recognized expertise, he has consulted and taught in many other areas across Mexico.
He has had a special link to the Institute for Simplified Hydroponics near Puebla, Mexico ( http://www.carbon.org ) . Raanan has worked with the FWOP to construct various models for a "micro-farm" that can increase sustainability for households and local neighborhoods. http://www.microfarms.com Our colleagues are integrating such models into the new housing areas built by COFMICH in Mazamitla (500) , Sahuayo (250) , Ocotlan (250) and Morelia (3500).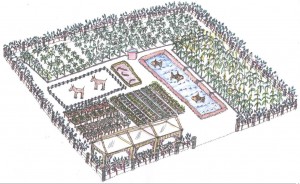 In the Fall woman from Mujeres Vigilantes will be in Israel to study agriculture. We hope that Raanan and the woman can meet in Israel. Yvonne Sandoval, President of Mujeres Vigilantes visited Israel in 2010 and was impressed with many models of "sustainability" found in the kibbutzims in Israel . Mujeres Vigilantes in the State of Hidalgo where they are building a resort cabana tourist community with new homes for the resort employees. The outlines for this model came from Yvonne's trip to Israel. Basic model is to attempt to integrate work near more eco-friendly housing .
Raanan was lecturing in Guanajuato in February 21011 and this Summer is has been lecturing in Japan. If possible , we hope to have Raanan rejoin FWOP in western Mexico to assist our team in Mexico.
Agricultura Sostenible
Raanan Katzir
Resumen CV Tel Aviv, Diciembre 2007
Actualmente: Director de SACOG, "Sustainable Agriculture Consulting Group" (Grupo consultor en agricultura sustentable)
Agrónomo, MS.C en Agronomía de la facultad de agronomía, Universidad Hebraica de Jerusalém. Cuarenta años de experiencia laboral en el Ministerio Israelí de agricultura en las áreas de extensión agrícola y protección vegetal.
Coordinador nacional de investigación y extensión agrícola, jefe de la oficina de cuarentena nacional y director de proyectos internacionales en países en desarrollo en el marco de la agencia israelí para cooperación internacional. ( MASHAV).
Ha dirigido estudios de post grado en Francia, Sudáfrica y en USA. Ha participado en decenas de conferencias internacionales. Publicadas decenas de artículos relacionados a su trabajo profesional.
Manejo eficiente del Ingles, español, Francés y Hebreo, como lengua materna.
Ha realizado decenas de conferencias y misiones de consultoria en países en desarrollo, en Sudamérica, África, Europa central, China, India y Oceanía.
En los últimos 20 años se ha especializado en Agricultura Sustentable, enfocándose al manejo sustentable de recursos naturales como suelo, agua, cultivos, zootecnia, clima y recursos humanos, con el objetivo de obtener producción agrícola y seguridad alimenticia. El planteamiento básico es el de un manejo holistico integrado para conservar los recursos naturales para su futura habilidad para generar alimentos y evitar disturbios agro ecológicos. Miembro de la asociación Israelí de Ingenieros, La Sociedad Israelí de Entomología y Fitopatología, y la Sociedad Internacional de Desarrollo (SID).
Secretario General de una ONG llamada OISCA-Israel conectada a su ONG madre en Japón que se ocupa de la educación ambiental de los jóvenes, reforestación y actividades de desarrollo internacional.
Actualmente, Director del Grupo Consultor en Agricultura Sustentable (SACOG), dedicado a enseñar y consultar en Israel y en otros países industrializados y en desarrollo.
Temas profesionales
Curso y Consultoria, 2010
Raanan Katzir
A. Agricultura Sostenible tema general:
El enfoque general de Agricultura Sostenible
La experiencia Israeli en Agricultura Sostenible
Aspectos globales de seguridad alimentaria y agricultura sostenible
Problemas agro ecologicas en los paises en el camino del desarollo
Agricultura Sostenible y seguridad alimentaria
El Manejo sostenible de recursos de agua
Bio tecnologias y agricultura sostenible
B. Temas de desarrollo regional integrado de Investigación Agrícola (R&D).
El systema agricola regional de investigacion y desarollo (R&D)
El servicio de extension agricola en Israel
Investigacion agricola avanzada en Israel
Desde agricultura sustentable hasta agricultura avanzada dirigida al Mercado
Planificacion de proyectos agricolar regionales.
C. El desarrollo agrícola en zonas áridas
Agricultura avanzada en zonas aridas
Las ventajas del riego por goteo
Controlar riego
Salinizacion y el uso de agua Salinas en la agricultura
Desinfecion de tierras por Solarizacion
A forestacion en zonas aridas
D. Otros temas profesionales agrícolas
Agricultura Organica
Agricultura urbana y peri urbana
Metodos de controlar heladas
Evaluacion del Impacto Ecologico
Conservacion de suelos
Biodiversidad, Seguridad alimentaria y conservacion del medio ambiente
Agrobiodiversidad
Agro y Eco Turismo.
Energia de recursos re novables y la agricultura
Agricultura avanzada en invernaderos
El beneficio de hydroponia simplificada
La agricultura y el cambio de clima
El crisis de los precios de los alimentos de comida
Agricultura avazada en Israel
Combatir eladas
Evaluación del Impacto Ecológico (EIA) de proyectos agrícolas y ambientales
Agricultura avazada en invernaderos
Controlar clima en invernaderos
Mitigación de los factores que causan los desastres agrícolas.
El curso sobre la agricultura sostenible está dirigido principalmente a licenciados y estudiantes de doctorado y profesores universitarios. El curso se centra en la gestión sostenible de los recursos naturales como suelo, agua, cultivos, cría de animales, el clima y los recursos humanos, a fin de mantener la naturaleza y la producción sostenible de alimentos y materias primas para obtener la seguridad alimentaria. . El curso se ocupa de historias de casos prácticos, principalmente de la experiencia de Israel y otros. Los participantes serán capaces de comprender y analizar la gestión sostenible de las zonas rurales, la planificación y realización de proyectos de desarrollo rural.
Enfoque similar podría aplicarse para llevar a cabo viajes de estudios regionales de las zonas rurales como de consultoría y producción de documentos sobre la Evaluación del Impacto Ecológico (EIA), aplicaciones financieras por realizar proyectos.
El ajuste por encima de la participación en los temas de las conferencias internacionales.