While it may be unfair to put the world's troubles on the backs of women of the world, it is instructive to review the roles of women with respect to national and community building across our planet. Stereotypes are not always helpful.
National leadership in the hands of women does seem to be on the rise, e.g., Germany , Brazil, Argentina, Thailand and Australia. Their impact is as yet unclear. More impressive is the role of Aung San Suu Kyi , leader of the opposition in Burma.
Perhaps more concrete social change is the work of Dr. Yunus and the creation of the Grameen Bank, which focuses upon micro loans to mostly women in Bangladesh and around the world. In Mexico FWOP has tried to support En Via Foundation in Oaxaca that provides microloans to women in two villages. (www.envia.org ) .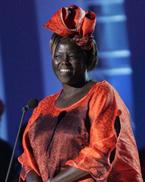 The Green Belt Movement that was organized by Professor Wangari Masthai , Nobel Prize for Peace in 2004 has been empowering women for thirty years across Kenya and Africa. Their goals is now one billion tree campaign . Turk Pipkin is recent film Nobeity focuses in part on her outstanding work. ( www.greenbeltmovement.org )